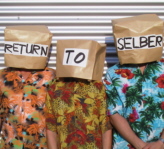 Willkommen im Selberspace. Sie finden hier unsere Comeback-Single zum selber herunterladen, selber brennen, mit einem selbst ausgedruckten und ausgeschnittenen Cover versehen und schliesslich zum selber in die Stereoanlage schieben. Mit anderen Worten: mehr selber ist es erst, wenn Sie selber Musik machen (und worauf warten Sie?).
Wie so oft bei Selber gibt es eine Moral von der Geschichte und die heisst diesmal: die Wirtschaftskrise macht uns nicht zu besseren Menschen, aber wir hätten alle gern ein paar altruistische Streicheleinheiten mehr.
Und jetzt geniessen Sie selber.

RETURN TO SELBER MP3 SINGLE
listen and download at mp.de
Welcome to selberspace where you find our comeback-single for free downloading, burning and listening – all done by yourself. Plus a cover to also print out by yourself and then apply it manually to the cd-case yourself. In other words: as long as you don't make music yourself there's no more self within reach (and what are you waiting for?).
As most of the times there's a little selber-moral to the story and it goes like this: the crisis of economy doesn't turn us into better people but we all are longing for some altruistic strokes on our bellys.
And now enjoy yourself.

RETURN TO SELBER MP3 SINGLE
listen and download at mp.de